The Recordati group aspires to be a top-tier value creator for its patients, investors and people. Therefore, it recognises the central importance of its Human Resources, who represent the primary factor for the successful implementation of the company's strategy and the generation of value in the long term. To this end, the Group is committed to guaranteeing individual commitment and engagement, staying true to the company's purpose and values, and improving the quality of life of present and future generations to protect their well-being, health and safety, always in full compliance with current provisions and laws. It incentivises training and professional development. It promotes a serene, merit-based and inclusive environment where each individual is able to fulfil potential and optimise their capabilities and talent.
Recordati adopts a policy towards its Employees which:
attracts and retains talented people and encourages their development, including by collaborating with schools and universities, with a structured employee selection, onboarding and development procedure;

continuously creates a positive, fun, inclusive, flexible, stimulating, engaging and satisfying work environment;

encourages the professional development of employees and collaborators by providing training courses, coaching and mentoring, and awareness initiatives, as well as through on-the-job training;

retains and motivates employees, with a particular focus on highly qualified individuals and those with greater potential for development, not just by offering competitive pay to reward merit, but also through international career opportunities and initiatives that foster a sense of belonging to the Group;

ensures employees' well-being, health and safety;

ensures inclusion, social equity, equal opportunities and respect for individuals, core values for Recordati, which constantly combats all forms of discrimination and/or obstruction of individual expression within the Group;

expresses the full potential of each person and celebrates individual and team success.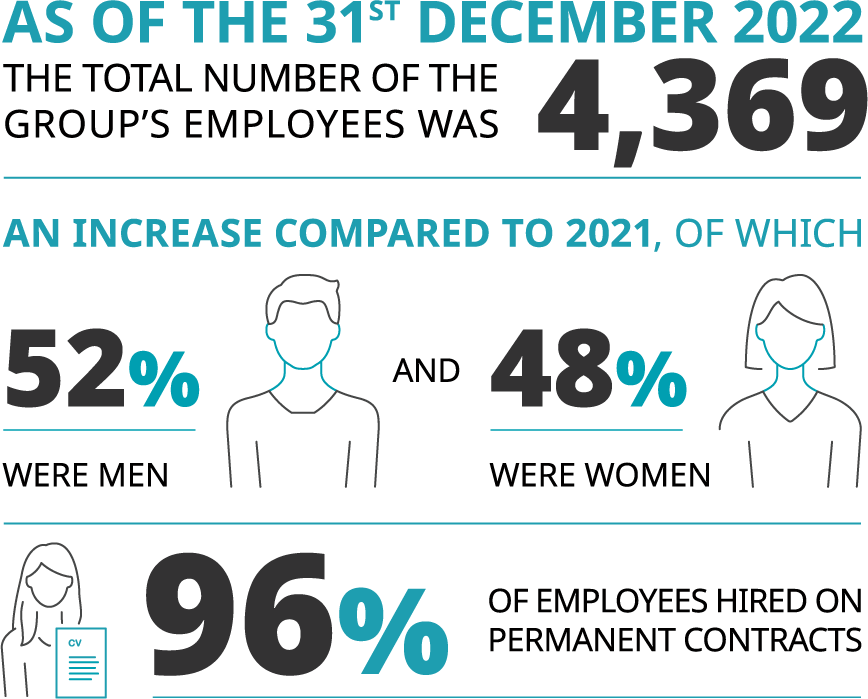 At Recordati, we believe that including as much diversity as possible within the Group, (in terms of perspective and culture, background, gender, age, or other personal traits) along with the resulting collaboration, will enhance the capacity for innovation and make the business more successful. By celebrating diversity and promoting inclusive practices among our employees, we are able to react to societal and market changes. For Recordati, inclusion entails the freedom to express one's thoughts and opinions, a culture of active listening and the chance to make mistakes and learn from them. To promote this culture and as part of the One Company, One Common Culture approach, the Group asks each manager not only to guarantee that there is no discrimination in the workplace, but also to underline the importance of Diversity & Inclusion (D&I) issues by demonstrating how diversity, fairness and inclusion can help the Group to achieve its short, medium and long-term goals and objectives. At Recordati, we strive to make everyone aware of their importance and encourage them to be ambassadors for the Group inside and outside the company.
In 2021 we signed the Charter for Equal Opportunities and Equality at Work, which represents a declaration of commitment to adopt inclusive human resources policies, supported by the Italian Ministry of Labour and Social Policies. Having adopted this Charter, Recordati aims to contribute to the fight against discrimination in all its forms in the workplace and is committed to enhancing diversity within its organisation.
As stated in the Code of Ethics, the Group is committed to guaranteeing that there shall be no form of discrimination whatsoever in the workplace based on age, gender, sexual orientation, ethnicity, language, nationality, opinions on political or trade-union matters, religious beliefs, or any other personal characteristics. Therefore, all Group structures are committed to: adopting criteria based on merit, skills and professionalism; selecting, recruiting, training, rewarding and managing employees without discrimination; promoting the integration of employees from other countries. In order to guarantee this principle, the Group has integrated a management policy which promotes the concept of inclusion, respects diversity and gives all employees a voice so that every contribution is heard and valued.
In line with previous years, the Group has a good gender balance, with 52% of employees represented by men and 48% represented by women. Furthermore, approximately 54% of employees hired during the year were women, 32% of Top or Senior Management roles are held by women (in line with the previous year) and, finally, women represent 70% of the R&D department.
The Group's commitment to D&I was formalised by a series of activities and results. In particular:
in order to gradually increase the percentage of women in top and senior management positions, recruiting and promoting employees with top-level skills and qualifications and who reflect the focus on inclusion and diversity, in line with the objective defined in the Sustainability Plan, at least 40% of candidates short-listed for top and senior management positions are women. Furthermore, internal personnel responsible for selecting these short-listed candidates has always included at least one woman. The Group also aims to continue this recruitment target in upcoming years.

a training course on unconscious bias was launched for Group employees in their local language. The course will be rolled out to new hires and plant employees in 2023. Furthermore, the Group's objective is to continue promoting equal opportunities and a culture of inclusion through the launch of D&I mentorship initiatives.

a survey was carried out on D&I involving Group management (around 300 managers), aiming to understand Recordati management's perception and awareness of D&I within the company, engage with management using an inclusive leadership style, and define a D&I action plan. In 2023, the Group has set itself the target of launching a People Engagement Survey for all Group employees at global level to better understand people's needs and to respond with further policies and actions. D&I will be one of the various areas included in the survey.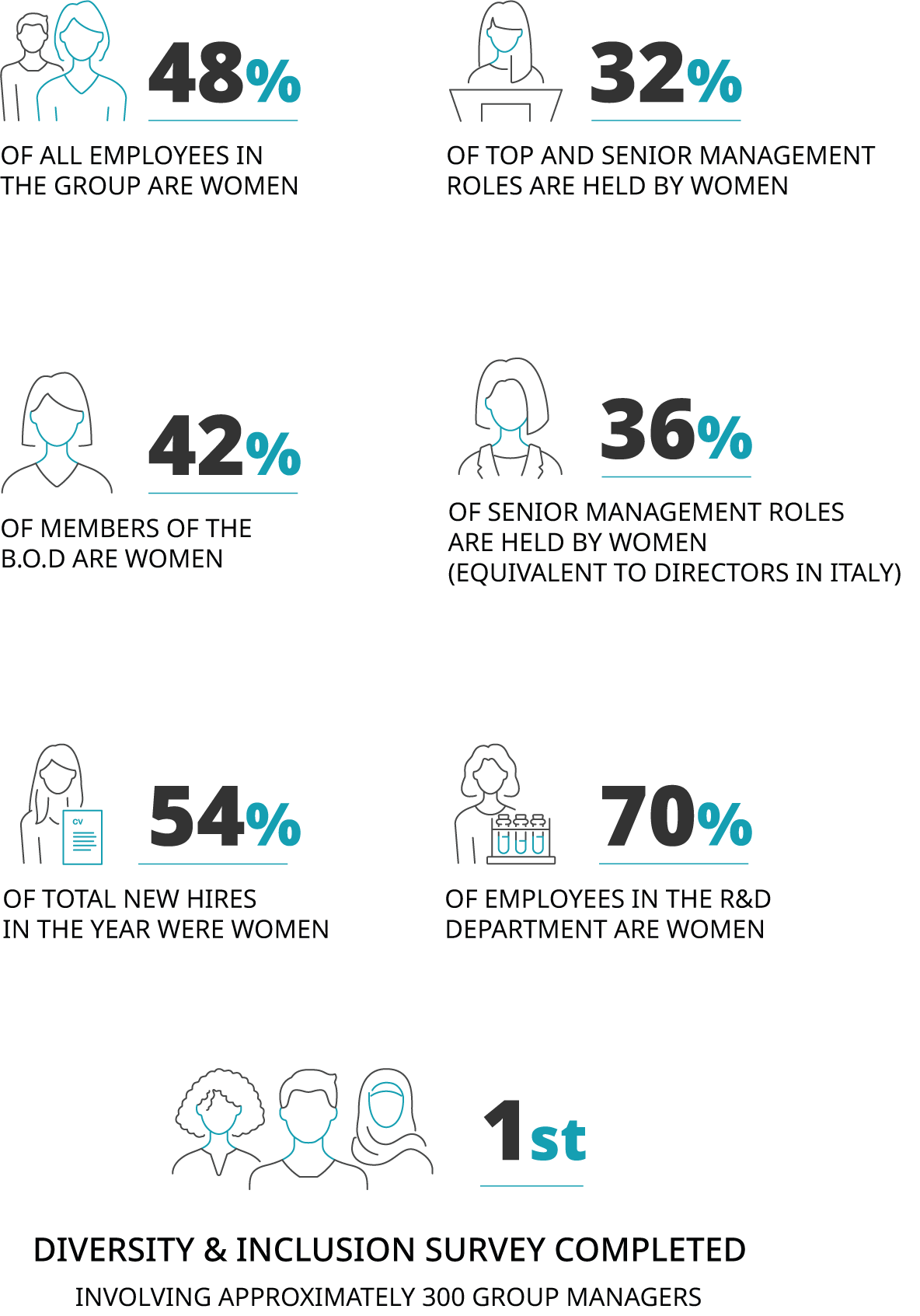 Training and Development of Human Capital
The Group considers the development of people as a fundamental process for their enrichment and for the success of the business. Development not only targets the key skills of their current role but especially those for possible future roles and the evolution of the business in terms of innovation. Development tools by Recordati include on-the-job training, individual or group training online and in-person, coaching, mentoring and job rotation.
In this respect, the main initiatives promoted by the Group throughout the year have aimed to develop the technical, managerial and linguistic skills of the Group's employees (including workers with temporary and part-time contracts), as well as offer training programmes to develop specialised and professional skills.
In 2022 the Recordati group provided over 120,000 hours of training to its employees, equating to 28 hours of training per capita.
Percentage breakdown of training hours provided to employees by training type
The Recordati group recognises that the protection of the health and safety of its workers is a key priority and responsibility. The Group is committed to implementing a policy to promote initiatives aimed at preventing work-related accidents and diseases, minimising the risks that may impact the health and safety of employees and other workers and providing appropriate technical, financial, human and professional resources.
As stated in the Code of Ethics, the Group is committed to disseminating and consolidating a culture of safety, raising awareness of risks, also through training activity aimed at promoting responsible behaviour and working to protect the health and safety of those operating for the Group, including by preventive measures. All company activities are carried out in compliance with current legislation regarding risk prevention and protection, with a constant focus on the improvement of workplace health and safety conditions.
The Group, in particular at its manufacturing sites, independently of the nature and purpose of the activities carried out, implements prevention measures provided for by local legislation, aimed at ensuring the constant improvement of workplace health and safety conditions. To this end, technical and organisational measures are implemented, such as:
the introduction of an integrated risk management and security system;

continuous assessment of the risks and critical issues and the resources to be protected;

the continuous maintenance and adoption of advanced technologies to prevent the emergence of risks relating to workers' health and safety;

the review and updating of working practices;

the provision of training and communications initiatives;

the adoption of appropriate emergency procedures and health check protocols.
All Recordati employees, particularly department managers, are constantly reminded to employ the maximum care in performing their activities, strictly observing any safety and prevention measures established and avoiding any possible risks to themselves or their collaborators and colleagues.
In this respect, the Group aims to promote responsibility among the Management team through the definition and formalisation of health and safety roles and responsibilities, and each production plant has a level of independent control over its health and safety budget. Activities at each production site are controlled and monitored through inspections and audits, performed both internally and by external companies. Furthermore, the Tunisian pharmaceutical production plant holds certification ISO 45001 for its occupational health and safety management system. In 2022, the follow-up audit was conducted and the certification was renewed.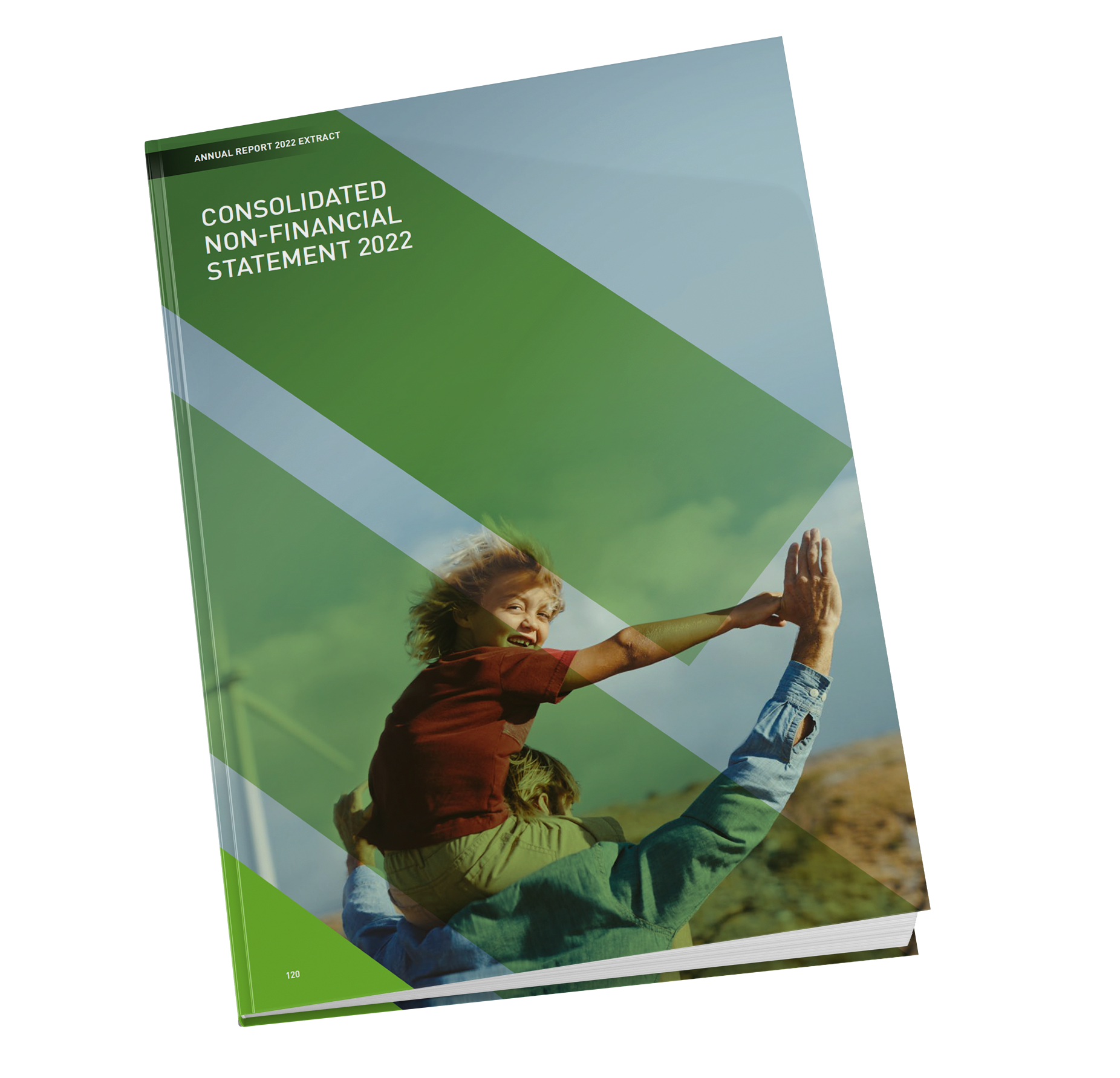 For more information please see the Consolidated
Non-Financial Statement 2022